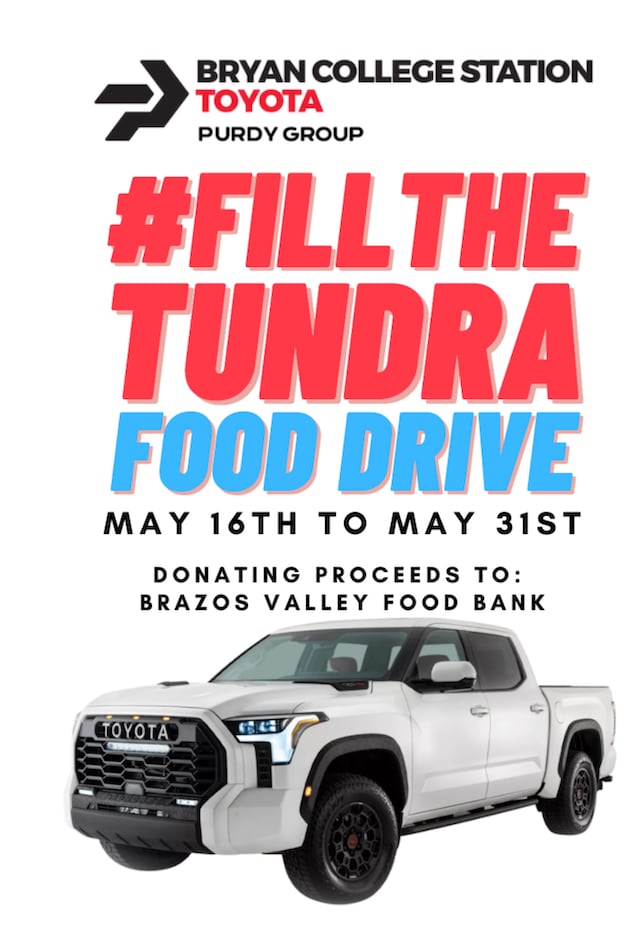 At Bryan College Station Toyota we are running our 3rd annual Fill the Tundra Food Drive to help give back to the community! We are accepting donations starting on May16th until May 31st to fill a Toyota Tundra truck with food donations. Bring your non-perishable food donations into Bryan College Station Toyota today! Our goal is to fill an entire bed of a Tundra with food donations to help out our local Food Bank! All proceeds will be donated to Brazos Food Valley Bank.
Brazos Valley Food Bank collects food donations to distribute through their partner agencies and special programs to help end hunger. They aim to educate the community about hunger, food insecurity and bring the community together to feed their neighbors. If you are in need of food assistance Brazos Valley Food Bank wants to help. You can get more information about food pantries, food assistance programs, events, and how to donate on their website: https://www.bvfb.org/.
Come in to Bryan College Station Toyota with your food donations today! You can drop off your donations at 728 N. Earl Rudder Fwy. Bryan, TX 77802 between the hours of 8AM to 7PM in the Toyota Tundra in our showroom with the Fill the Tundra Food Drive sign! For more information about the Fill the Tundra Food Drive event give us a call at (979) 776-0404. We also encourage you to share our Facebook post about the Fill the Tundra Food Drive to help spread the word!